Writing your resume for the very first time can be very intimidating. For fresh graduates, writing a resume that gets the job is far more intimidating.
And we've all been there!
Staring at a blank document, wondering which of the many impressive attributes of yours to write is truly daunting.
Of course, deciding what information to put on your resume is one thing.
Presenting them on an actual resume is another.
How should your resume look like? How does an effective resume look like? What kinds of information should you put to make your resume terrific and effective?
For starters, there are general principles we all must learn when writing resumes. These are principles we've consolidated based on data — best-practices in writing resumes.
By looking at resumes other people make and asking the people who do the actual hiring, we can identify the dos and don'ts of writing a resume and tell what employers are actually looking for in a resume.
Getting data and resume writing best-practices to work in your favor may increase your chances of your resume getting noticed and finally getting an invite to a promising interview.
But it's cumbersome to research and research to figure out what these industry best-practices are, right?
Moreover, for creatively challenged individuals (you know, people who cannot make aesthetically pleasing or artistic crafts), coming up with a professional looking but an attractive resume is surely going to be a tough challenge.
And presentation matters! Content may be King, but the design is the Queen!
What if we tell you that you don't have to go through all those messes in order to write a beautiful looking resume that is backed by resume writing best-practices?
I mean, you don't need to go to Google and search "what are resume writing best practices", "how to write a great resume", "how to write a resume that gets the hiring manager's attention", or "how to design and lay out a resume". You don't even have to ask yourself which of your many awesome attributes you should include in your resume.
What if we tell you can make a terrific resume in one sitting — no need for Google, no need for long hours of self-introspection, no need for you to squeeze your creative juices?
Yes, you can do that.
You can do that with UptoWork's Resume Builder.
In this post, we will take a look at UptoWork's Resume Builder. We will show you the things we like about this builder.
Just a quick disclaimer: We don't get any monetary incentive for this review. In our effort to help our readers get ahead of the job search, we constantly find ways to make the hunt easier for everyone. We think this builder can help job seekers, hence this review.
UptoWork's Resume Builder
Here's UptoWork's website.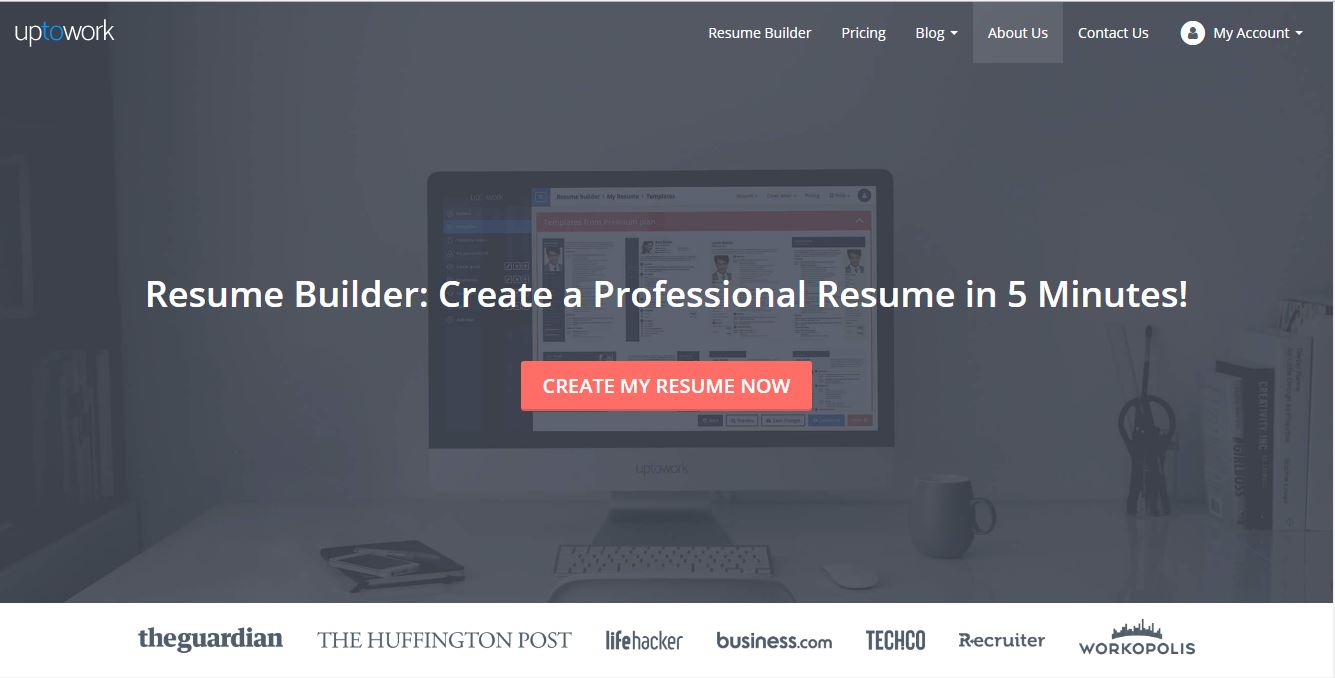 1. Let's choose a template. 
You can find the link to their resume builder on the navigation panel at the top of the page. When you click on it, it will take you a list of resume templates which you can use.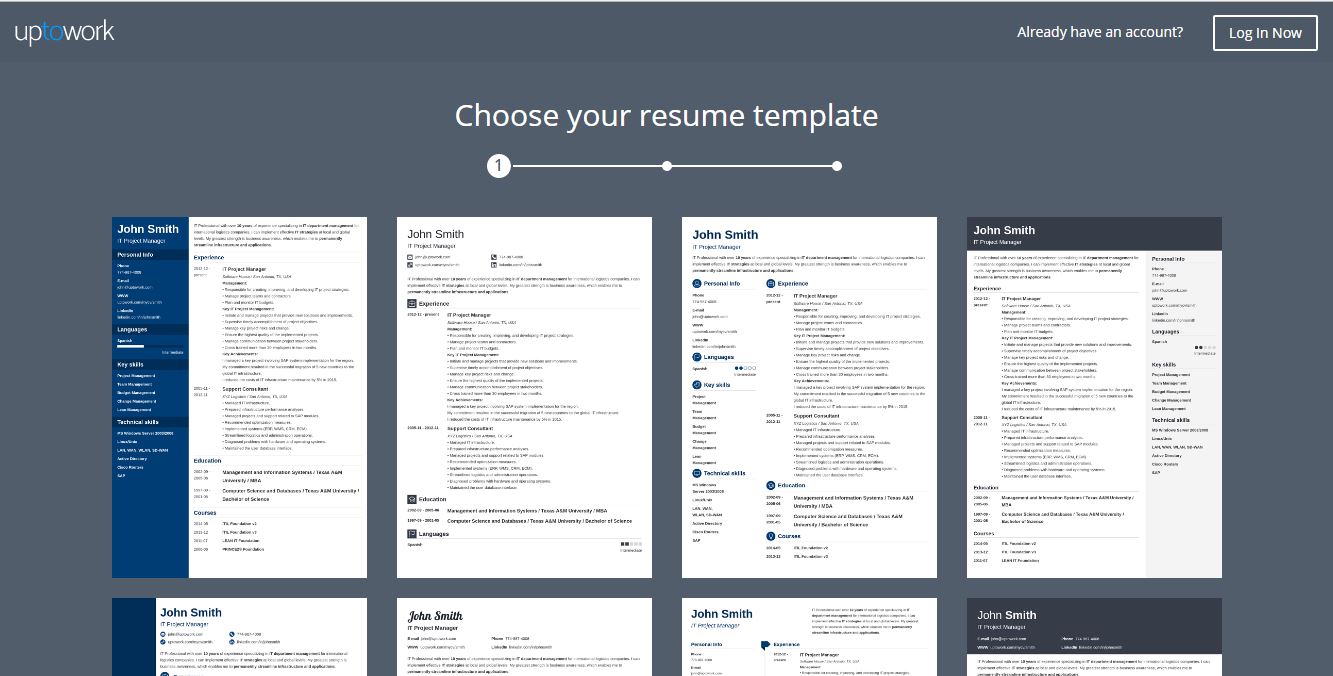 2. Choose a color. 
Once you've chosen a general template, the builder will ask you what color you like for your resume.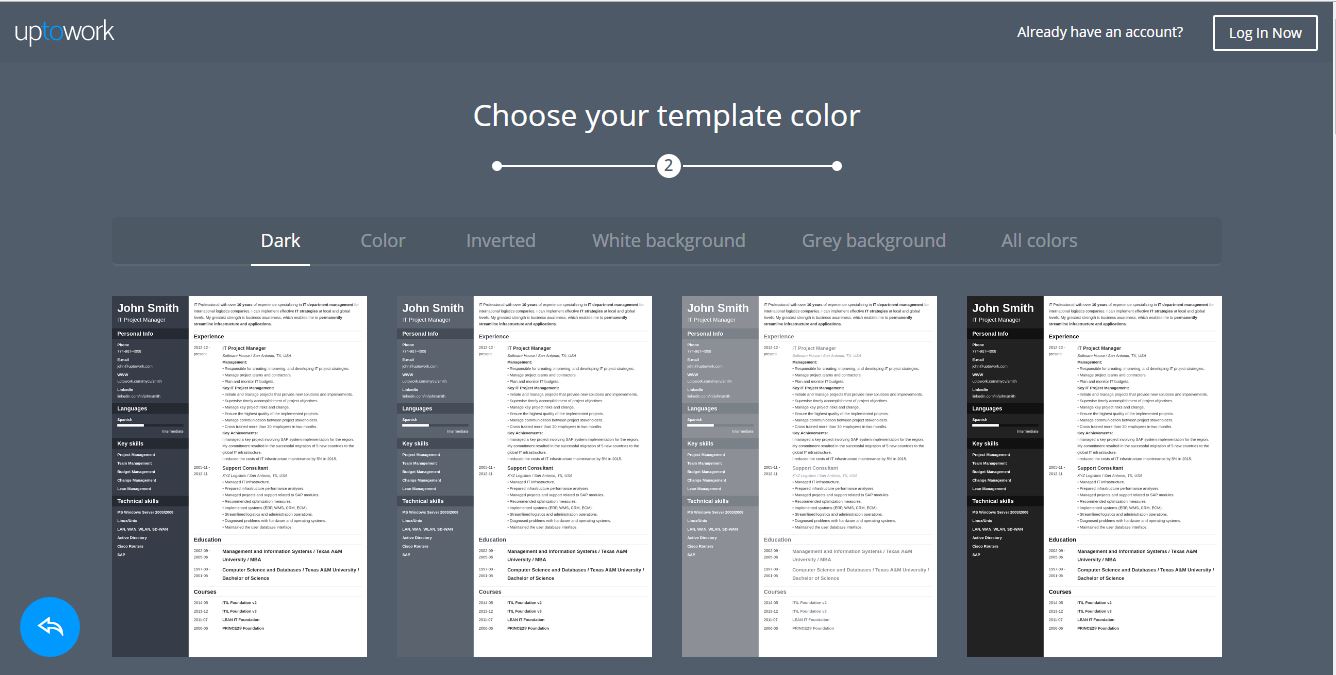 3. Sign up. 
Then, you will be asked to sign up.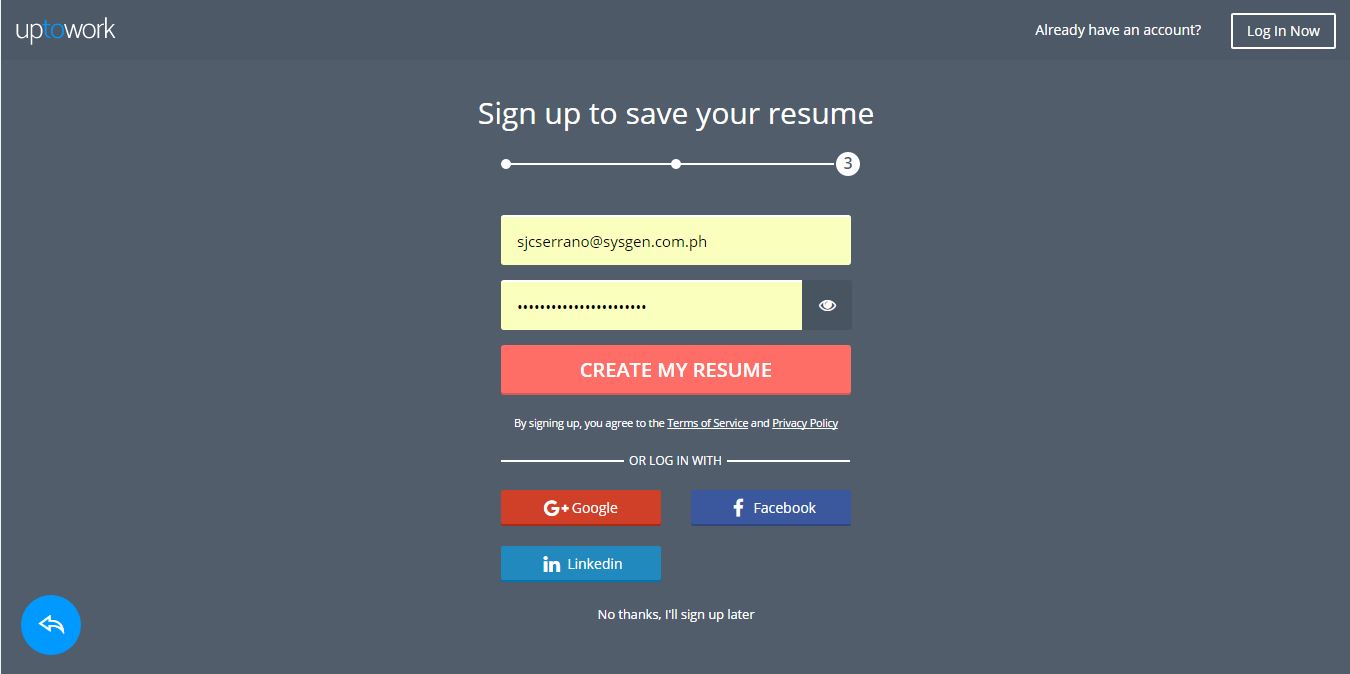 Unfortunately, this builder is not free.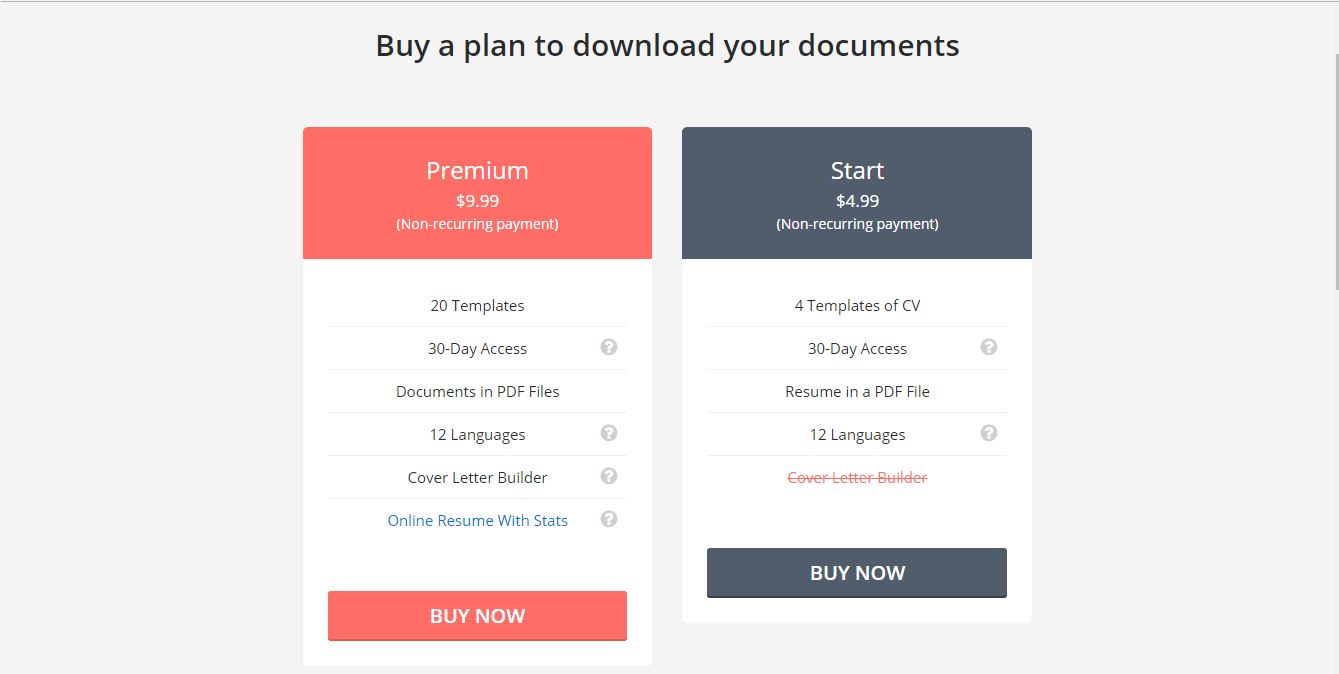 DON'T WORRY. WE ARE GIVING YOU FREE ACCESS TO THIS TERRIFIC BUILDER, THANKS TO UPTOWORK'S GENEROSITY! JUST CLICK THE BUTTON BELOW TO GET YOUR ACCESS CODE FROM US. 


Did you get your code already?
Use the code on the checkout page. The code will give you 100% discount and you can renew your plan using the code until June of 2017.
4. Start building your resume. 
Are you done signing up? If yes, here's your dashboard. You will build your resume from here.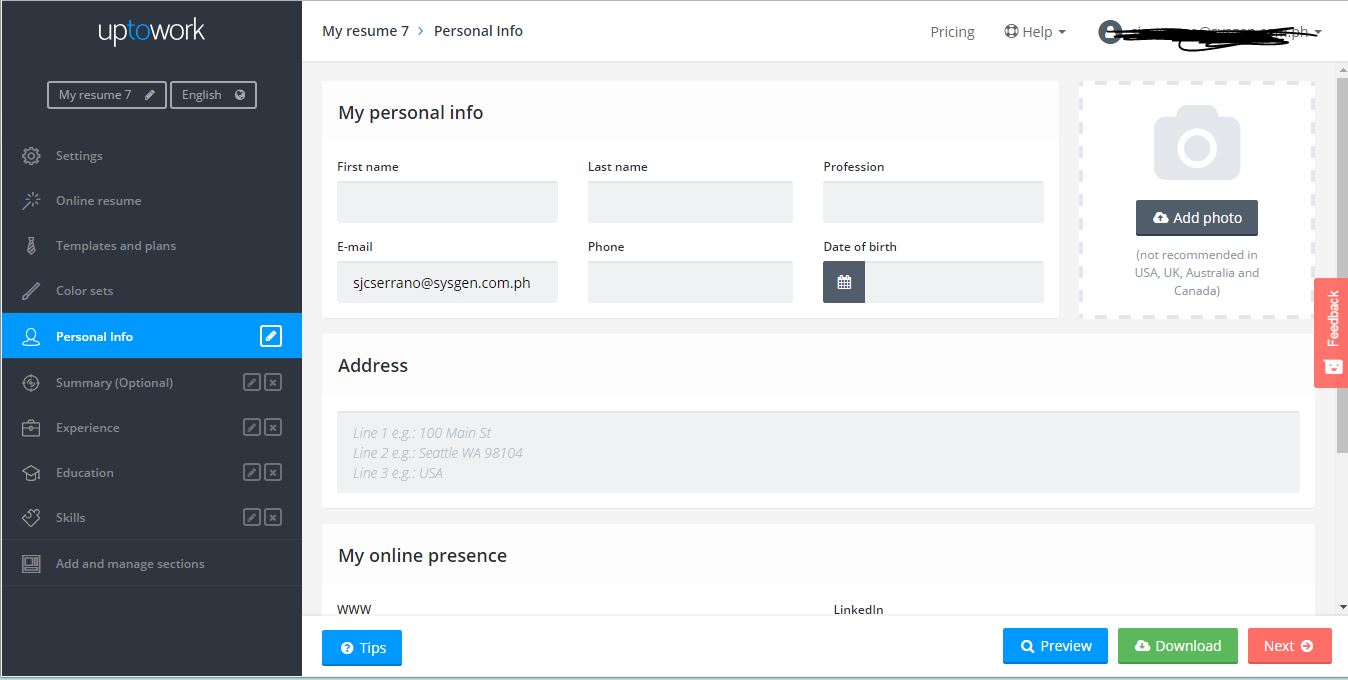 The builder will ask you to put your Personal Info, Summary, Experience, Education, and Skills. From your dashboard, you can also change the settings of your resume template. You can customize the font, font sizes, font weight, and formats.
Experience Section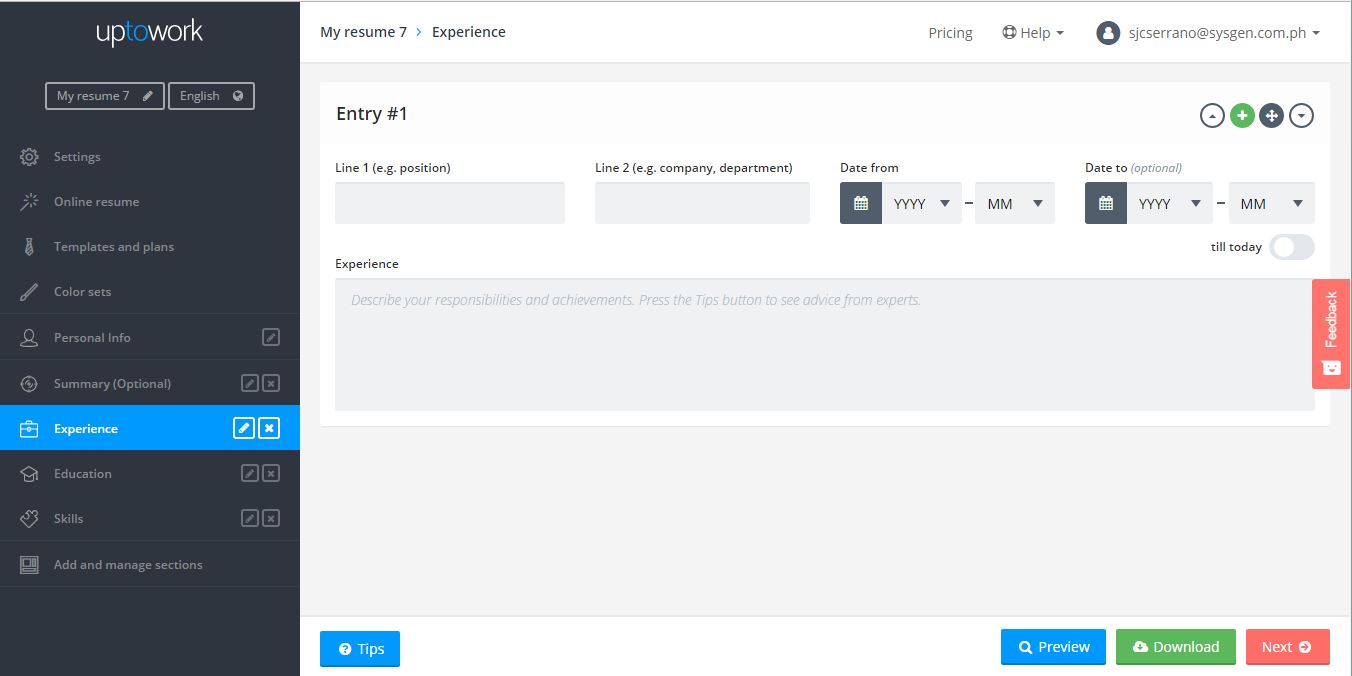 Education Section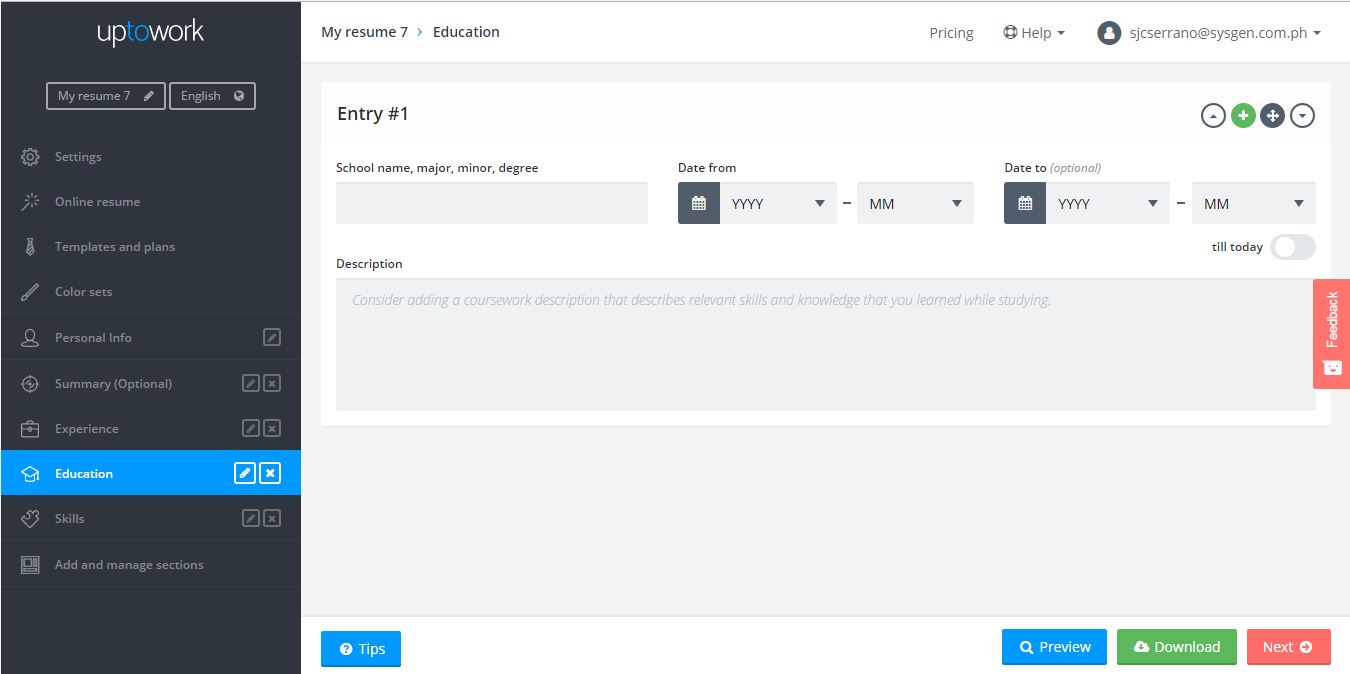 Skills Section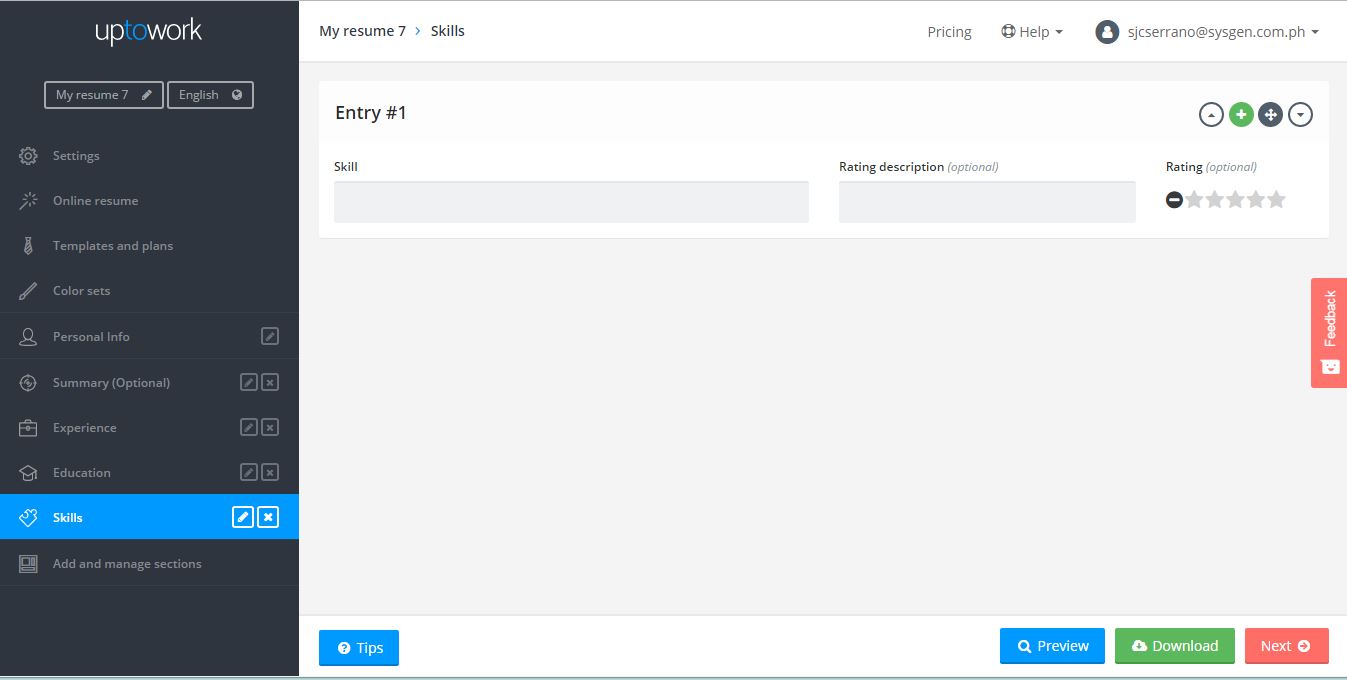 Add and Manage Sections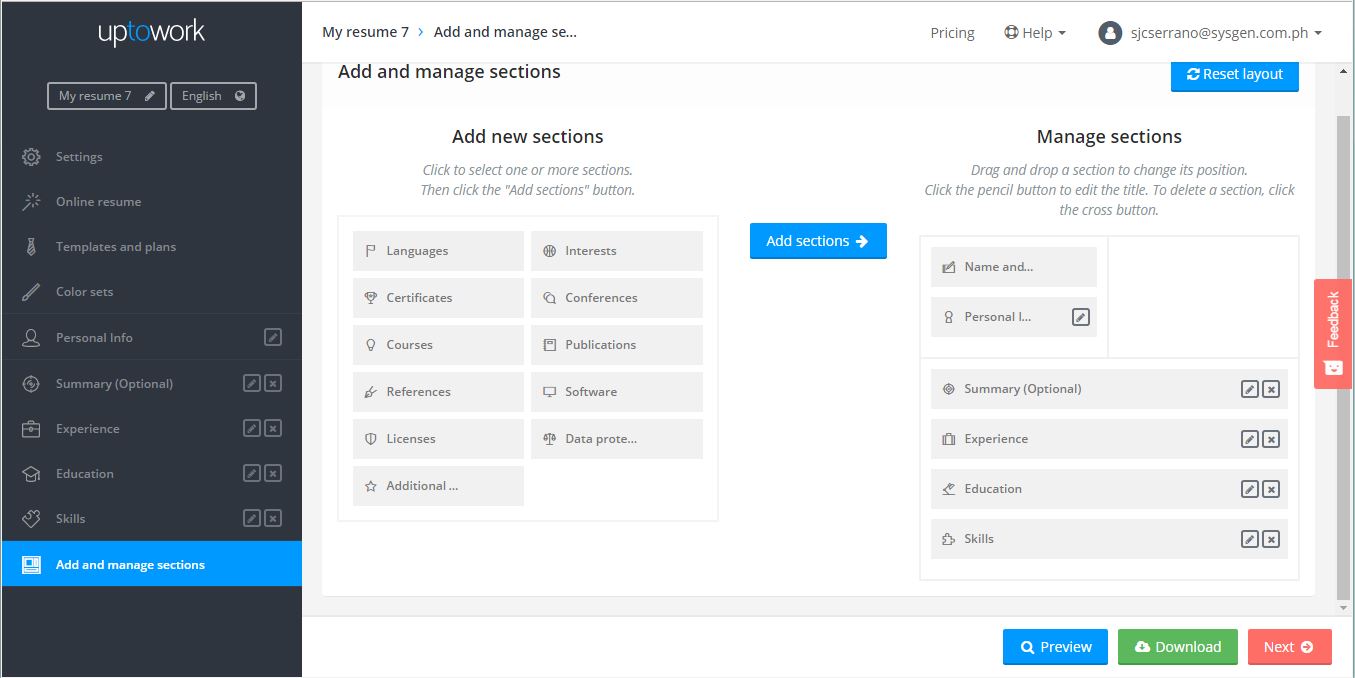 5. Use their guide. 
The builder will also guide you as you create your resume. By hitting the Tips button at the lower left corner of your monitor, the builder will display tips which are data-backed. It means that these tips are proven and tested!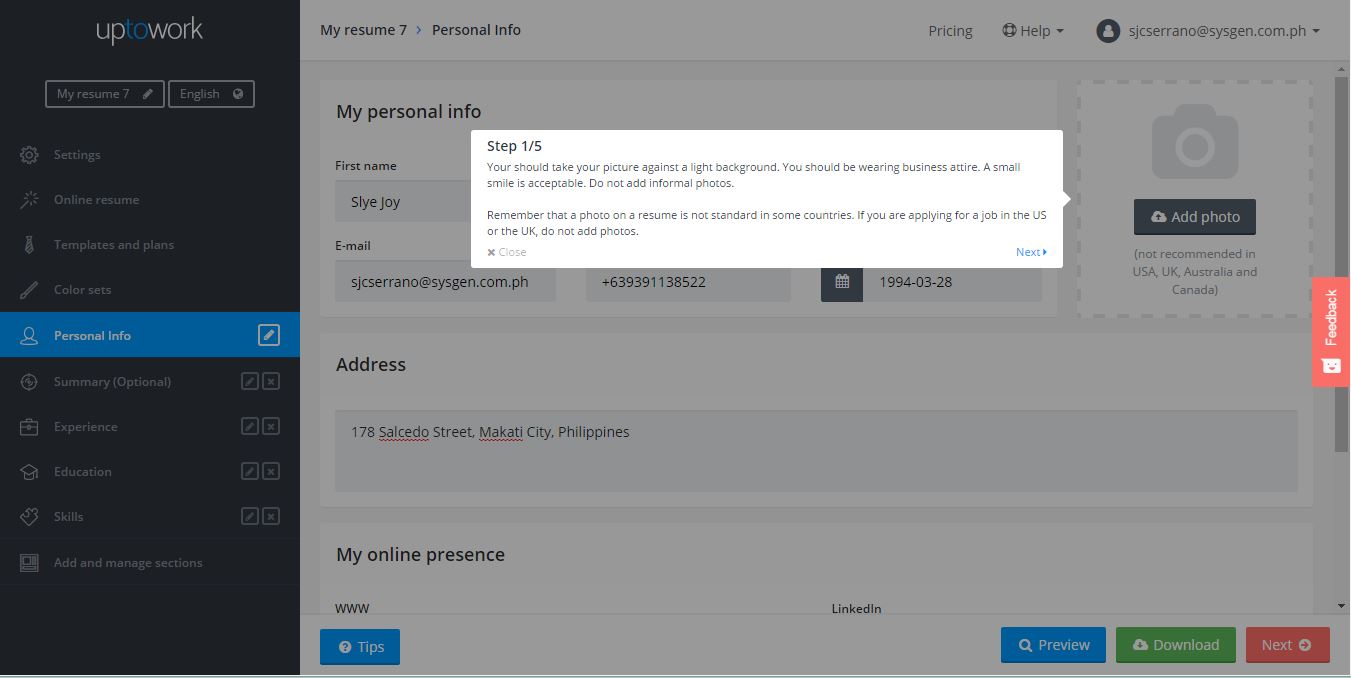 6. Preview and download your resume. 
I tried creating my own resume. I used the Icon Template and I did not bother to customize the font sizes, weights, and format. Here's how it looks look:
[pdf-embedder url="http://www.sysgen.com.ph/articles/wp-content/uploads/2017/03/Slye-Joy-Resume.pdf" title="Slye Joy Resume"]
You can download a PDF file of your resume.
7. Or, you may activate your online resume.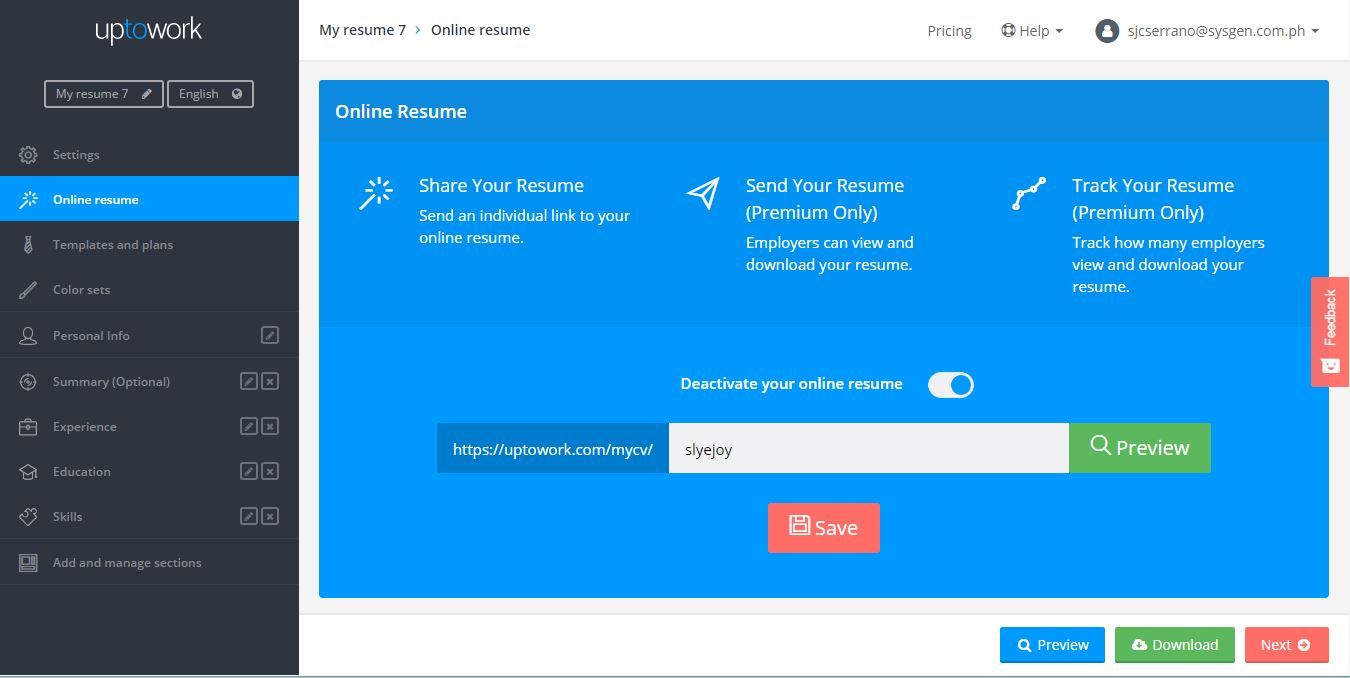 You can also put your resume online using their Online Resume platform. Your online resume URL looks like this: https://uptowork.com/mycv/yourname (my sample resume's URL is: https://uptowork.com/mycv/slyejoy).
With an online resume, you can easily share the link to anyone. Employers can view and download your resume from their browsers; you don't need to send them anything, just the link! Also, with a premium plan, you can track how many viewed and downloaded your online resume.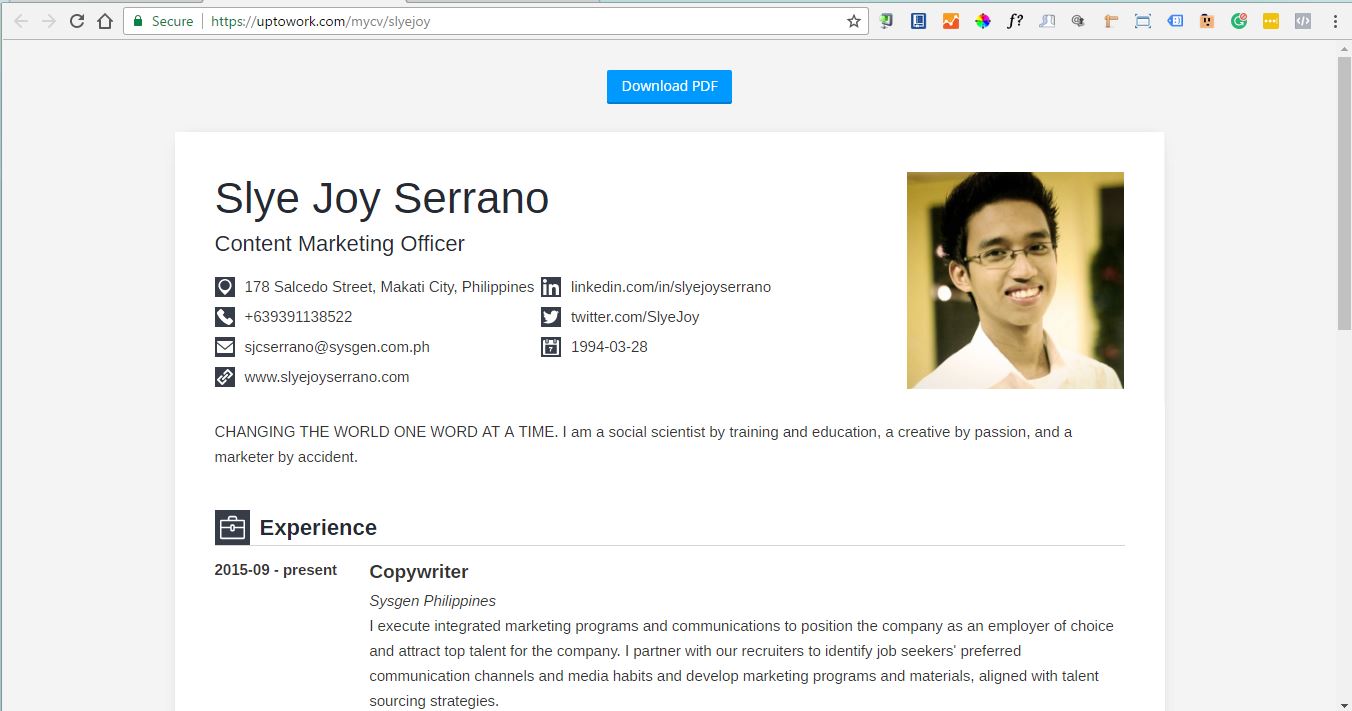 Final Thoughts
UptoWork's resume builder is straightforward. Their resume templates showcase information that really matters. The resume builder is terrific. User experience is great, thanks to their clutter-free user interface. We also appreciate the Tips Button. It's definitely a great help to those who find it a challenge to create effective resumes. Writing a great, professional looking resume in just 5 minutes is indeed possible.
Get your FREE ACCESS to UptoWork's Premium Resume Builder by hitting the button below. This code is valid until June 2017.
Thank you to our friends at UptoWork for giving our readers free access to their resume builder.