Resumes and cover letters are the first things recruiters and hiring managers look into. They are the deciding factor whether or not you get a job interview. Most of us spend copious time and heroic effort crafting them, revising them, and even paying professionals to write them!
And then there are those who don't.

Check out just a few examples of the worst resumes hiring managers here in the Philippines usually encounter:
The Slambook
A bio-data is generally a temporary resume for people with no work experience or who were yet to graduate from college. But they are long and gone. Yet, somehow, we can still see its visages in resumes today.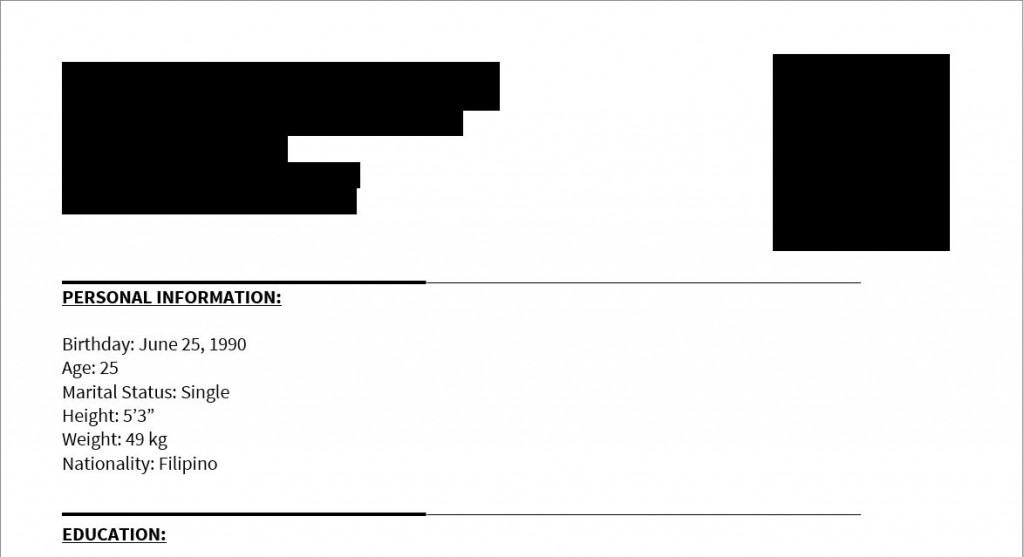 Unless the position you are applying to requires an age qualification, you are not supposed to put your age. Unless the job has something to do with fitness, maybe you don't need to put your weight and height. Unless the job has something to do with marriage counseling, a civil status might not be needed.
But for an I.T. professional, you don't have to include information such as your height, your weight, your crush (Kidding!), and your other personal details. Think about the relevance of everything you put in your resume to the job you are applying for.
Tip: Curate the content of your resume according to the job description. Package your resume in a way hiring managers can say you are the perfect candidate for the job.
The "MeMa"
Ever heard of the slang "mema" (not to be confused with "meme")? "Mema" is a contraction of the Filipino phrase "may masabi lang" [just to say something]. "Mema" resumes tend to be lengthy and sometimes, downright erroneous.
Take the recreated example below for example. For sure we all love a good adobo, a delicious "sinigang", or a sumptuous "kare-kare", but I wonder how that is going to make you a good programmer, or a project manager (unless you are the kind who cooks free lunch for their peers; that could be a great bonus!).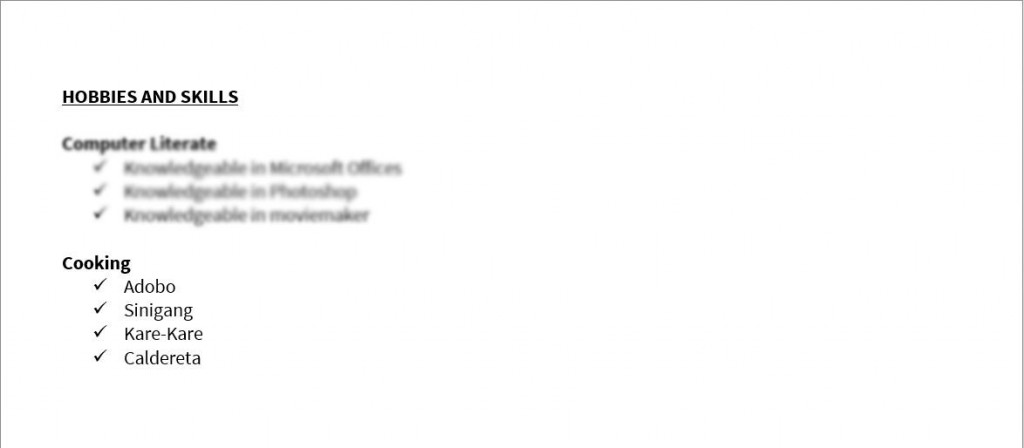 Remember that hiring managers usually deal with plenty of resumes every day. A lengthy and verbose resume will not necessarily make it seem like you're experienced, or make you look impressive (unless ALL of the information you've written on your resume are RELEVANT to the job you are applying for, then you are impressive). A three-page resume with the last two pages being a list of 10 seminars, the names of your patients, and about 20 special skills (which includes karate, ventriloquism, or cooking "sinampalukang palaka") is surely going straight to the trash bin.
Tip: Strive for parsimony. Make your resume simple and relevant. Curate your content according to the job description. 
Religiously yours,
The constitution of the Philippines sanctions the freedom of religious exercise. Likewise, it warrants freedom from discrimination due to religion. In this recreated resume, the applicant states their religious beliefs, and gently demands that the company recognize them and make certain adjustments.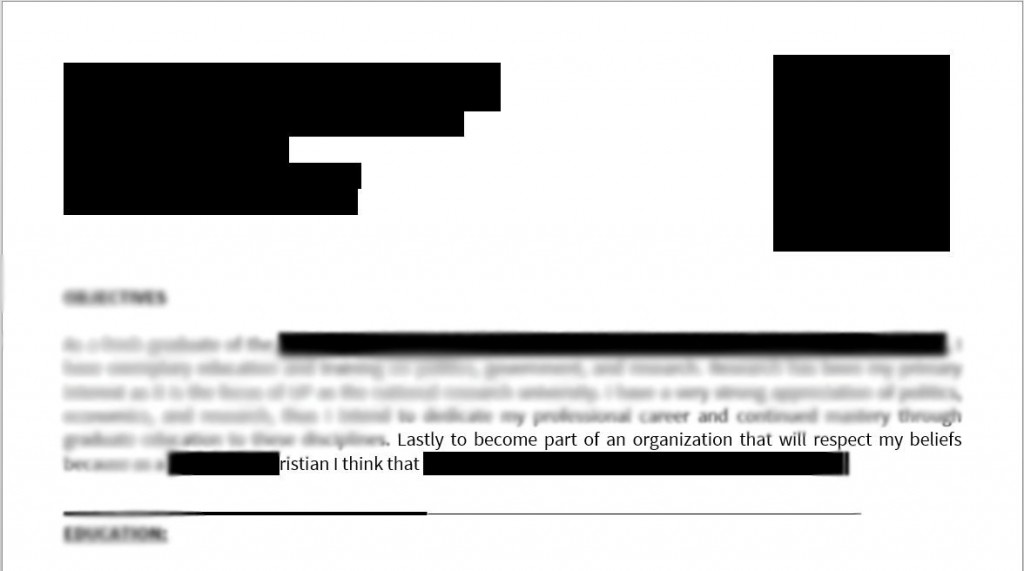 While it is reasonable, there is no need to request for religious freedom through your resume even before you got the job. Chances are, it might even raise a red flag to whoever is reading it.  Again. the resume is a list of reasons why you're qualified for a job, not a list of requests.
The Outdated
Don't tell me you are seriously thinking about telling the hiring manager you are a spelling bee champ when you were a fourth grader? Huh!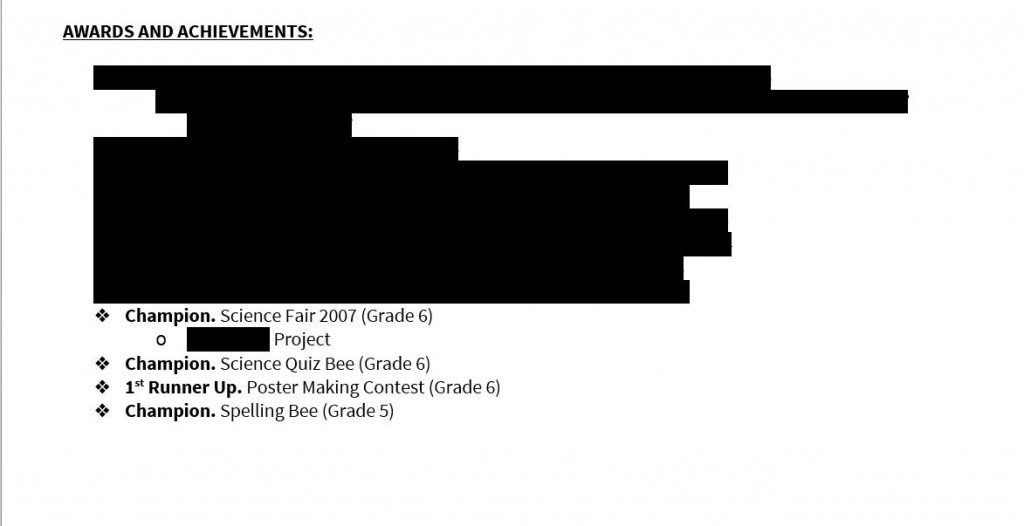 Tip: If you are to include lists of various projects, awards, and seminar among others, limit them to the top 3 or the top 5, and to the most recent, preferably from the previous 3 or 5 years only.
The Betrayed
Don't let your resume betray you. Check your resume for typographical and grammatical errors, especially if you claim you are 'very detail-oriented'.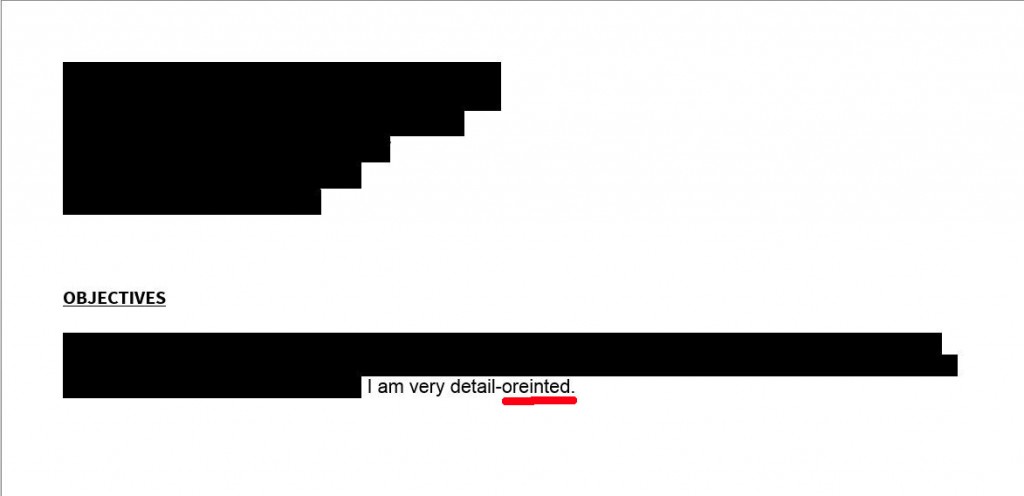 We'll talk about how to make the perfect resume next time. Ciao!