College graduation is on the horizon. Soon, our fresh graduates will start looking for their first job (now, I feel a little bit nostalgic). For fresh graduates, job hunting can be a little tougher than for 'seasoned' job hunters. And the first challenge for new entrants in the job market is, as you might have guessed, writing their resume. 
Most ask: How should I write my resume given that I have no work experience yet? How do I stand out when I have no experience yet to flaunt?  
Resumes of candidates who have no work experience yet are called fresher resumes. And they are not that difficult to write. If you've been wondering how to make a fresher resume, stop worrying. Even without any professional experience to flaunt, you can still stand out and sell yourself well. Just keep reading.
The Basics of Resume Writing
A resume is a document used to present an individual's background and skills. They can be used for a variety of reasons, but most often they are used to secure employment. The typical length of a resume is about one to two pages of size A4 or letter-size (8.5 by 11 inches).
The core issue is that a resume must be a useful document to its readers (recruiters and hiring managers). It must provide a relevant and concise information about you (the applicant), after all, it is the conveyor of your personal brand.
A resume is not an all-purpose document. While your basic information will be similar, you will need to modify your resume for different employers. Remember: Any prospective employer has their own specific criteria. Address these criteria in full.

You can curate your resume content based on your prospective employer's criteria by researching about the employer's business. Contact the company's contact person to get as much information (if need be). Remember the rule of seven.
Remember that more isn't necessarily better in terms of the amount of text. Stick to solid facts, without adornment, unless additional information gives you a clear advantage.
Formatting Your Fresher Resume
Aside from curating your resume content, formatting your resume is another vital aspect of a good resume. Here are some formatting guidelines to keep in mind when writing your fresher resume.
Readability. Your resume must be easy to read. Use easy to read fonts like Arial, Times New Roman, or Book Antigua among others (just don't use fancy, cursive or calligraphy fonts). Keep your font size big enough (probably 12 or 11). Stick to black texts over a white backdrop.
Dedicated Sections. Use dedicated sections, not just headers, to split up your resume into simple segments. This will help the reader to focus on specific information. Use color to break up your sections. Stick to darker and cooler colors to maintain a professional look (I bet that scratches out magenta, baby pink, and violet).
Space Allocation. Allow space for your information. Don't try to cram a lot of information into small spaces. Arrange your sections according to the hierarchy of information relevance (depends on your prospective employer's criteria).
Remember: There is no set-in-stone format for resumes. Just keep in mind the basic principles of formatting.
Layout Your Fresher Resume
Resumes are supposed to be simple and reader-friendly. However, it must convey your personal brand as well. You have to find the golden mean between simplicity and creativity to assert your personal brand.
For starters, here are the basic contents of a fresher resume:
Name and Contact Info Header.

This section must contain your name, your title (e.g. "Public Finance Graduate"), and your contact details. Limit your contact details you one phone or mobile number, an email, and your mailing address.

Career Objectives

. This is an optional section. Keep this section concise, clear, and compelling.

Qualifications

. Spell out relevant information. This section will lay out your educational attainment and relevant skill sets. Curate your content according to the position you are applying to. Use buzzwords (or keywords). There are employers who use computer software to source resumes (using keywords or buzzwords).

Software Skills

. This is a common requirement for many employers and a major checklist criteria item for some.

Relevant Practical Experiences

. Projects, internships, related academic work if applicable go into this section. Ensure you address the employer's high priority requirements in this section.

Achievements

. Remember to spell out the competition. Include relevant achievements only. Limit your lists to the top 3 or top 5 entries.
For guidance, take a look at this sample fresher resume courtesy of Resumonk. You can also consider using any of these beautiful resume templates on Resumonk.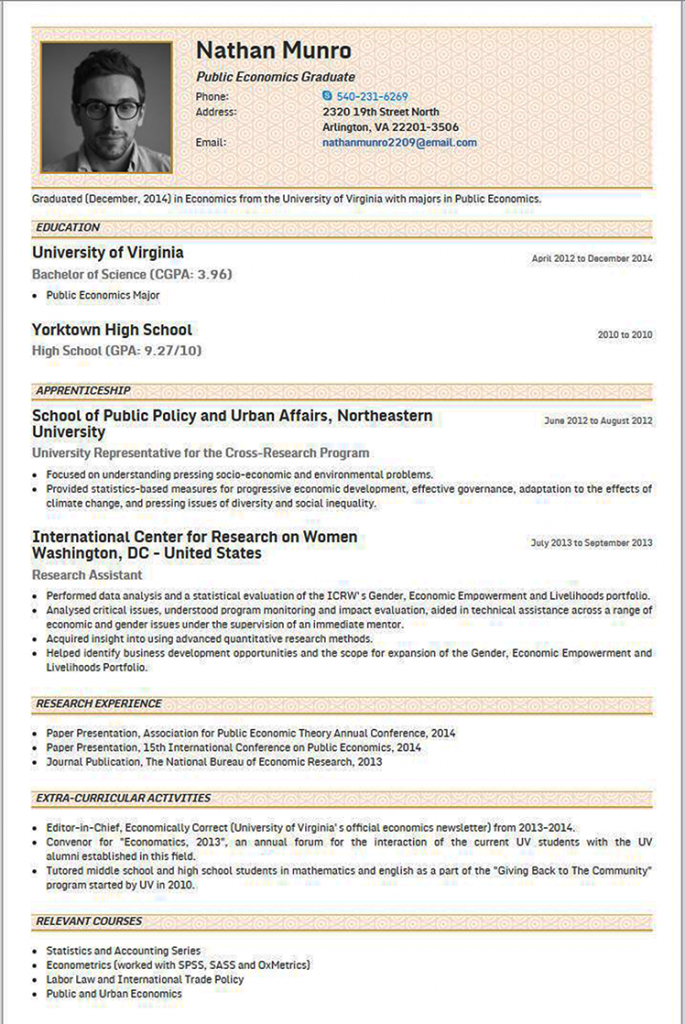 You can download some templates we've prepared for you, or simply look into these examples and try if you can make one yourself. See the link below.
Check this out: 10 Free Classic and Creative Resume Templates
And if all these tips do not help you at all, we've got another quick fix for you.
We are giving you free access to an excellent online resume builder. This is a premium builder with plenty of terrific, professional resume templates. The builder will also help you create your resume. The builder comes with plenty of tips to guide you as you make your resume.
You can access this resume builder for free, thanks to our friends at UptoWork. Just use the code we'll provide. Just click the button below to get your access code.

Take Home Message
Check your resume for typographical and grammatical errors. Make sure it looks good and professional. Be sure you include all of your high-value information. And finally, make sure you've met your prospective employer's criteria. No resume is all-purpose, so keep tweaking it according to your needs.
If you are looking for a job right now, we can help you. We have plenty of job opportunities for you. Browse through them, and don't hesitate to contact us if you have questions. Good luck and happy hunting!
You can access this resume builder for free, thanks to our friends at UptoWork. Just use the code we'll provide. Just click the button below to get your access code.