For marketers, advertisers, publishers, and human resource executives, mobile connectivity is a big deal. People are glued to their devices, day in and day out. Mobile is where our target audiences are. And we need to be there, as well.
In the recruitment industry, mobile recruiting has become a trend as well. It's versatile, convenient, and affordable. Data from LinkedIn Talent Solutions attest to the growing importance of mobile connectivity for HR managers and recruitment consultants: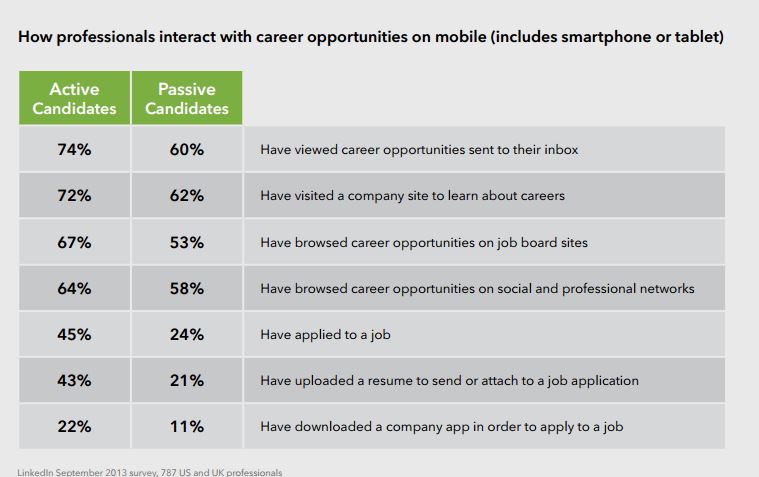 Each passing day, new devices and mobile technologies become available. Needless to say, mobile platforms, tools, and devices will continue to be an indispensable companion for recruiters.
To help you build up your mobile recruitment process, check out the following mobile strategies and tools:
1. Make your website and career pages mobile-friendly.
Make sure your website visitors can access and interact well with your website and career pages on any type of device, be it on desktop computers, tablets, and smartphones. Make sure your website is user-friendly and mobile-friendly. Take into consideration the simplicity of the processes each user has to go through as it interacts with your pages or website. Here are some tips to do this:
Simplify your sign-up and login procedures; the fewer the steps, the better. That means, the fewer the clicks, the better.

Mind how groups of information are placed on the page. Have dedicated sections for company details, job openings, and resources.

Use chat apps or contact forms that are easily accessible for your visitors at any point in their interaction with your page or website.

Improve your website's mobile-friendliness and page speed and performance.

Make sure all your buttons are well-placed and big enough on mobile devices to be pressed. Mind how they are placed on the page; you have to make sure it's accessible for people who use one thumb when navigating their mobile devices' screens.

Test if your website is mobile friendly using Google's Mobile-Friendly Test:

https://search.google.com/search-console/mobile-friendly
2. Maximize short message service (SMS).
Reach out to candidates through text messaging. Most candidates will appreciate you more if you send them a text message firsts before calling them. A simple text message can be used to:
Update candidates' contact information.

Text messages not only allow you to touch base with applicants. It also helps in configuring your applicant tracking systems for updating purposes.

Schedule and confirm appointments.

You can conveniently send a text reminder to your candidates about their upcoming exam or interview. Confirming via text makes it easy for candidates to get back to you.

Check in with your candidates.

Unlike direct calls, text messaging is not intrusive. Your text messages may either be personalized or system generated—both of which make for good engagement opportunities with potential employees.

Enhance your recruitment process.

Sometimes, hiccups happen during the hiring process. Candidates may need more time to comply with pre-employment requirements. Communicating with your candidates via text can keep you in the know about how things are moving along.
3. Using mobile platforms for social recruiting and mobile sourcing.
Do you search for job candidates on social networking sites like Facebook, Instagram, Twitter, or even LinkedIn? Do you use your mobile device when doing these? As the data from LinkedIn shows, a significant number of potential candidates interact with recruiters and hiring managers using their mobile devices. They are interacting with employers through a number of mobile career sites and mobile applications. These are mobile platforms you have to tap as well.
These sites and platforms can give you access to a large pool of candidates right at your fingertips, and there are apps for recruitment and talent sourcing you can use.
This mobile app is useful for your regular sourcing activities. You only need to type in keywords in your query, and Bing will deliver search results from LinkedIn, Twitter, and Google Plus. You can even share your search via email to a colleague in your organization.\
LinkedIn's standalone mobile app gives you access to its database of hundreds of millions of members and lets you interact with them through the app's InMail tool. The app can be used by mobile devices with both U.S. and non-U.S. numbers.
The app works with the mobile version for job seekers called simply TheLadders. For recruiters, creating an account on TheLadders will enable them to make a search for candidates based on indicated criteria.
With the generated results, recruiters can swipe left or right to filter the non-qualified against the qualified. The swipe up action is used to text, call, or email qualified applicants.
The app is handy for organizing and managing your job posts on social media. There's a tool if you want to filter your posts such as where to post an ad and what's the best time to publish it. Links, texts, videos, or images can be added to your Buffer.
There are also platforms for mobile recruitment that may complement your sourcing and hiring activities. One of these is SparcStart. You can market your jobs to passive candidates by linking to Sparc Start postings called Match-Click.
This link, sent via email, will direct candidates to short video presentations of the company's hiring manager and other colleagues in the company, giving bits and pieces of information about the job and the organization.
4. Mobile applications and tools for video interviewing.
A trend in recruiting that is becoming more common is "video interview". HR executives say video interviews allow them to enhance their recruitment process by decreasing chances of no-shows, reaching out to remote candidates, and saving time and money in the process.
The following are some of the most recommended tools for setting up a video interview with job seekers:
WePow is a video interviewing app which allows recruiters to conduct pre-recorded and live interviews with their candidates. WePow allows automatic push notifications and provides tools for candidate evaluation and integration into Applicant Tracking Systems.
Skype is a popular, free platform used to conduct conference calls and face-to-face interviews. All it takes is to launch your Skype account from your mobile device and connect it to your internet.
Another free and easy-to-use mobile app for video conferencing is Hangouts by Google+. It's great for screening applicants before endorsing them to a panel interview, which can be done in a private Hangout setting.
Bringing It All Together
As recruiters, we have to be where our target audiences are. Mobile platforms remain and continue to become indispensable tools for reaching out to potential candidates. Needless to say, these platforms help us in our recruitment goals in more ways than one.
Source:
"Mobile Recruiting Playbook: Everything You Need to Kickstart Your
Mobile Recruiting Strategy". 2017. Business.Linkedin.Com. Accessed February 23 2017. https://business.linkedin.com/content/dam/business/talent-solutions/global/en_US/c/pdfs/linkedin-mobile-recruiting-playbook-en-us.pdf.
"Mobile Recruiting And Recruitment Marketing – Recruiting Brief". 2017. Recruitingbrief.Com. Accessed February 23 2017. http://www.recruitingbrief.com/mobile-recruiting/recruitment-marketing/.
"5 Top Mobile Apps For Recruiters – Social Talent". 2016. Social Talent. Accessed February 23 2017. https://www.socialtalent.co/blog/5-top-mobile-apps-for-recruiters.