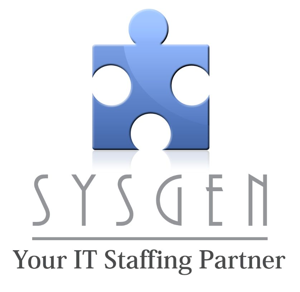 Recruitment Process Outsourcing

Growing firms need a recruitment outsourcing company with an in-depth knowledge of IT recruiting and the strategies to make it happen.

For more than 20 years, our management team and staff of recruitment professionals have successfully used strategies to help build our client's IT manpower needs.

Placement Services

Sysgen's IT staffing methodology enables us to attract and engage the highest quality IT professionals. Having a database of more than 30,000 IT professionals, have helped us deliver fast and reliable placement services to top notch clients. Through experience and market expertise, we can attract top IT talent and develop sourcing strategies ranging from networking

IT Staff Augmentation

Whether you need a programmer to write a simple program, or a senior systems administrator to provide performance tuning, Sysgen can provide you with IT consultants that have skills and expertise on numerous mainframe, mid-range and PC platforms. We can provide competent consultants to fill IT positions in your organization.

— Beng Coronel
President - Pointwest

— Marvin P. Estrella
Talent Acquisition Specialist - Pointwest Technologies

— Gardner L. Torres
Java Developer - Software Ventures, Inc.

— Aspiras, Princess Jasmine E.
SQA Engineer - Verifone Global Development Center

— Paolo Benjamin Briones
Technical Lead - Kalhaven Asia, Inc.

— Emilyn Salvador-Sotingco
Software QA Engineer - Verifone Inc.



© 2018 Systems Generators Philippines Inc. All rights reserved.